267-715-9624
Fentanyl Detox Near Philadelphia
Fentanyl can be an extremely harmful drug not only because of its highly addictive nature but also due to the fact that it is commonly cut with other illicit substances. If you become addicted to fentanyl, you require immediate assistance. And the opening stage of recovery is through a medically guided detox to cleanse your system of the opioid.
Beacon Point Recovery Center provides treatment to gradually taper you off fentanyl while mitigating withdrawal symptoms. Your life is of great importance. Don't risk it by continuing to use or trying to quit by yourself. Instead, call 267-715-9624 and get started toward recovery.
How Do You Know If You Require Fentanyl Detox Near Philadelphia?
First introduced as an authorized anesthetic in the 1960s, fentanyl is commonly misused, manufactured illicitly, and recklessly combined with other substances such as heroin and cocaine. Like other opioid painkillers, the feelings of pleasure it produces makes it highly addictive. You may be addicted if you experience any of the following:
● Withdrawal symptoms arise when not on fentanyl
● Steady urges to keep using fentanyl
● Withdrawal from friends and family or a change in social circles
● Finding and using the drug becomes more vital than meeting day-to-day commitments
● Severe mood fluctuations and lethargy
● Finding that it takes more of the substance to attain the same "high"
Every individual's experience with fentanyl addiction will be different. The bottom line is you must get help. The power of this substance and the severity of withdrawal make halting use alone very dangerous. Don't put yourself at risk. Speak with the detox specialists at Beacon Point Recovery Center.
What You Should Expect From Fentanyl Detox At Beacon Point Recovery Center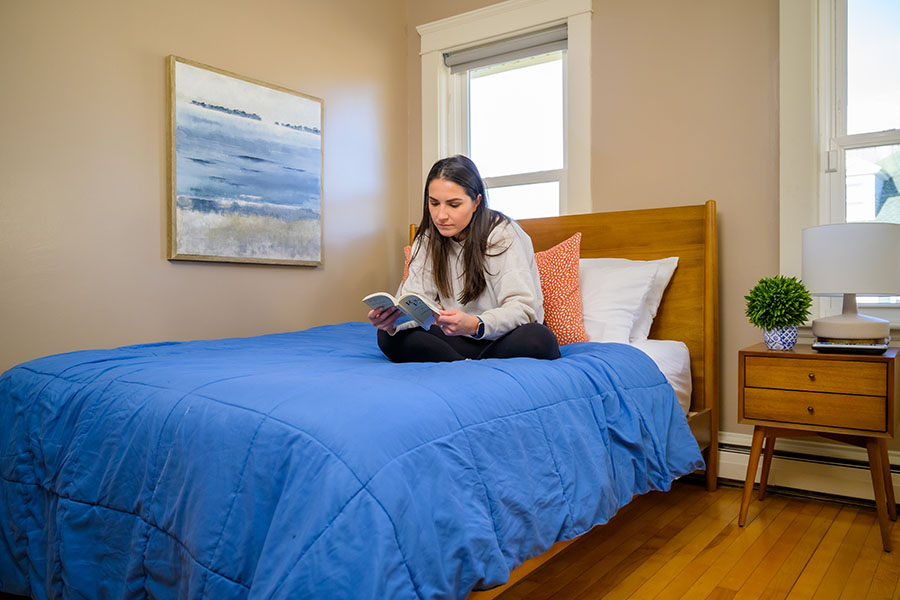 Beacon Point allows you to undergo detox with dignity and respect in a non-judgemental environment. We are passionate about what we do and believe in a personalized approach to drug and alcohol care. This starts with an assessment that considers your level of fentanyl consumption, health history, physical condition, and presence of other drugs. From there we can personalize a plan of treatment.
Along with an individualized plan, we'll provide a fully furnished bedroom to recuperate in and boost your energy with healthy meals and refreshments. Keeping you comfortable is critical, and we begin by managing withdrawal through medication-assisted treatment and other approaches. We are experts in mitigating various types of withdrawal symptoms, including:
● Bone or muscle aches and pain
● Nausea and vomiting
● Diarrhea
● Restlessness and insomnia
● Cravings
● Increased heart rate and blood pressure
● Mood fluctuations
● Anxiety
● Depression
When you're feeling better, we'll encourage you to participate in individual and group therapy. This is beneficial in coping with the the external influences and trauma that trigger your addiction. We'll then help get you ready for the ensuing stage of rehab.
What's The Timeframe For Fentanyl Detox?
Because we believe in a personalized approach, the time you spend with us will vary. In general, individuals are able to finish fentanyl detox near Philadelphia within a week, although prolonged plans of care are common. The duration of your stay may be impacted by:
● The extent of your fentanyl usage
● The presence of addictions to other substances
● Your physical and mental state
● How you respond to treatment
We need to make certain you are in a stable medical condition and prepared for the following stages of treatment. Taking that into consideration, we stress the importance of aftercare planning, which provides a detailed guide to your recovery.
How Will Beacon Point Protect Me During Fentanyl Detox Near Philadelphia?
Making the call and beginning your fentanyl detox near Philadelphia is a significant move toward keeping you safe from this deadly opioid. After you enter our facility, you'll be kept safe by the extra safety measures we have implemented, including:
● 24/7 guidance from credentialed medical personnel
● A supervised setting away from outside forces that trigger fentanyl use
● Individualized treatment plans to accommodate your unique condition
● Aftercare planning to provide a clear guideline of the steps involved in recovery
● Inflexible patient privacy guidelines to keep your personal info and details of care protected
Our experienced team will also make certain you don't get a secondary addiction to medication used in your care. We generally use Suboxone with opioid detox as it is effective and not as addictive as other choices. To promote safety when giving you this drug, we follow these guidelines:
● Hold off on using Suboxone in the earliest stages of treatment to steer clear of precipitated withdrawal
● Provide an opening dose and observe your response
● Alter the dose if required or switch to other treatment methods
● Gradually taper you off Suboxone
Get On The Road To Recovery With Fentanyl Detox In Philadelphia
Don't let a fentanyl addiction wreck your life. Get the help you're in need of at our fentanyl detox in Philadelphia. We'll keep you protected, get you through withdrawal, and get you started on a path to lasting sobriety. Dial 267-715-9624 or use the form on this page to begin your recovery. We are standing by for you 24/7, every day of the year.